9/12/08

How NOT to make friends and influence people....

CNN reports that Bush approved Pakistan raids

President Bush secretly approved U.S. military raids inside Pakistan against alleged terrorist targets, according to a former intelligence official with recent access to the Bush administration's debate about how to fight al Qaeda and the Taliban inside the lawless tribal border area.

The former official spoke Thursday on condition of anonymity to describe the classified order.

The former official told The Associated Press that Bush signed an order this summer giving new authority to U.S. special operations forces to target suspected terrorists in the dangerous area along the Afghanistan border. More recently, the administration secretly gave conventional ground troops new authority to pursue militants across the Afghan border into Pakistan, the former official said.

The new authority allowed last week's unprecedented U.S.-led ground assault into the volatile region known as the tribal areas. The U.S. forces were apparently seeking specific Taliban or al Qaeda leaders...

The September 4 raid left at least 15 people dead, and embarrassed Pakistan's new civilian-led government. Pakistani officials have also said U.S. forces were involved.

Bush's decision to endorse cross-border attacks from Afghanistan without alerting Islamabad leaves Pakistani President Asif Ali Zardari with a major foreign policy challenge....

Zardari and other politicians have called the cross-border attacks unacceptable and a violation of their country's sovereignty. Gen. Ashfaq Parvez Kayani, the powerful but media-shy army leader, took things a step further Wednesday, when he said Pakistan's territorial integrity would be "defended at all cost."

"Reckless actions" which kill civilians "only help the militants and further fuel the militancy in the area," Kayani said, reflecting the views of many Pakistanis.
Read the whole thing
here
.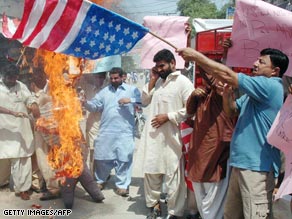 Pakistanis in Multan protest what they say was a U.S. attack using Predator drones.